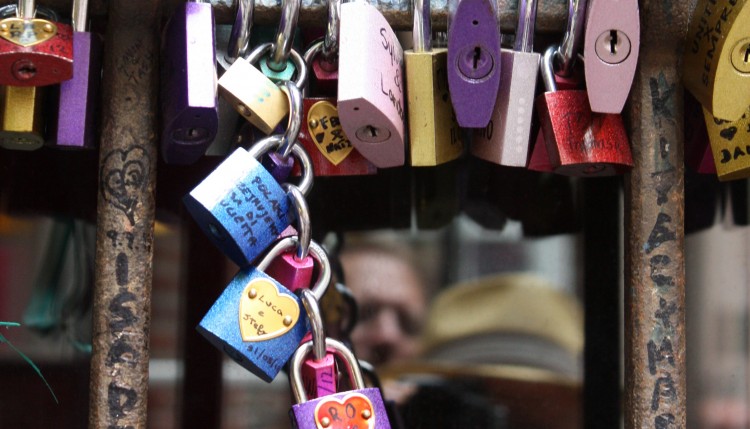 Dear April
Dear April,
Would you like to know why you're still single? Please see Plaintiff's Exhibit A in Zlotnik v. April (eHarmony chick who doesn't like to talk on the phone and prefers giving out her number for texting purposes only as a means to set up a date):
Friday
Jz, 3:20 p.m.: Hi April … Hope u r having a happy Friday … just wanted to confirm we r on for tonite?
A, 3:44 p.m.: Hey =) yes around 8 in case I get home late.
Jz, 3:45 p.m.: sounds good c u later
A, 3:46 p.m.: Ok text me when u get there or vice versa so we can meet in frnt
Jz, 3:47 p.m.: ok
I should interject here that in our conversation Tuesday night in which I asked her out for Friday night, we agreed upon meeting at 7:30 p.m. and I made a reservation for that time at a perfect first date restaurant that you won't get a table at on a Friday night at 7:30 because it's packed. Perhaps an excerpt from that conversation will help shed a little more light on this story:
Tuesday
Jz, 9:16 p.m.: Want to meet around 630 for a drink and dinner? Been to ecco in Costa Mesa?
A, 9:17: Never been there where's that. Can we do 7:30 I get home after 6
Jz, 9:19: Sure … I guess I'll have to go to the gym after work now J … it's in the camp on Bristol … a cool place
A, 9:20 p.m.: Ok I'll find it. What type of place is it
Jz, 9:22 p.m.: Kind of modern Italian … pretty casual
A, 9:25 p.m.: Cool … sounds good …
So I did in fact have full and complete knowledge that there was more than likely a chance I would be waiting a few minutes to meet this eHarmony chick whom I had never met before. I'm generally more than patient when it comes to waiting for a date. I like to think that a woman is usually worth it … and if there's time for a glass of wine before meeting an eHarmony chick for the first time, well that's never a bad idea.
At 7:35 p.m. I arrive at the restaurant, which is in fact packed and the hostess greets me. I check in and she agrees to hold our table while I wait out front for my date to join me.
As instructed, at 7:39 p.m. I send the following text:
Jz: im here …
The reply came quickly, my date did not:
A, 7:40 p.m.: Oh wow ok I haven't left yet is there parking there
Um, haven't left yet? OK … deep breath … her profile says she lives in Newport Beach, which depending on what part could be as little as 10 minutes away and I had been warned this date may not get under way until 8. Although, I don't know why she's worried about the parking. This is Orange County. I'm pretty sure Target has valet parking. And I recommend just that.
Jz, 7:41 p.m.: it was pretty packed … valet might be best … I'll hang at the bar
Well at least I'll get my glass of wine at the bar. And I suppose in the spirit of full disclosure I should point out that I already had one glass of wine at a previous location. I never really like to meet someone for the first time stone-cold sober and I had plenty of time for a quickie after working out and showering at the gym. And, because I move from patiently waiting at the front door to sitting at the bar and have just ordered a second glass of wine, I graciously add:
Jz, 7:47 p.m.: And no rush
Perhaps that was a mistake. And perhaps it's not too smart of me to assume that someone who is already officially 20 minutes late for a first date would not want to make her date wait much longer.
A, 8:00 p.m.: on my way
On my way? Really? OK … I'll share the rest of the story without further interruption … I don't want to prejudice the jury.
A, 8:20 p.m.: U at the bar?
Jz, 8:21 p.m.: yep … table in the bar
A, 8:26 p.m.: no prkng
Jz,: 8:29 p.m.: u should valet
OK, sorry, I can't help myself … didn't I already mention that valet was probably the best option because the place was packed? (See Jz, 7:41 p.m.). No more interruptions, I promise.
A, 8:30 p.m.: never been to this place before no clue where it is. I didn't bring cash to valet.
A, 8:30 p.m.: is there maybe a place nearby that's not so crowded with parking
Jz: 8:32 p.m.: just valet and I can get it on the way out
Ah hell, I can't help but taking just a few words to highlight my chivalrous offer to pay the valet for an eHarmony chick who is officially, one hour and unofficially, 30 minutes late for a first date.
A, 8:33 p.m.: I have no clue where ecco is I don't know doesn't sound like a good idea way too crowded
A, 8:34 p.m.: sorry if you want to go somewhere not so busy that's cool otherwise I'm gonna take off
Jz, 8:35 p.m.: have a nice evening
I rest my case. I order another glass of wine, a burrata and prosciutto appetizer with pear slices and balsamic drizzle and then the rib-eye special topped with a red-wine reduction and melted gorgonzola with butternut squash and asparagus on the side … and then I have a piece of cheesecake.
Why am I still single? Patience I guess.
Yours Truly,
Jz